In 2018, everything can be yours at the touch of a screen. Unlimited access to movies, books, music, information, and now beauty and pampering services can instantly be yours in the blink of an eye. With just one click on these apps, it is possible to get a blow-out, a massage, or a custom makeup palette almost instantly.
Here are 19 free makeup apps that will help you step-up your beauty game with the snap of your fingers. Some of these apps will even allow you to edit your appearance without picking up a makeup brush.
Why Makeup Apps Make a Difference?
While makeup, makeup services, spa treatments, and hair salons are typically expensive and time-consuming, and sometimes frustrating, these apps will drastically help you eliminate many of those frustrations.
Think about how much makeup you only applied once because it simply didn't look right. Many of these apps allow you to try on the look before you buy, saving you time, money, and space.
According to Sephora, the average woman buys the wrong foundation seven times before finding the right shade. Wouldn't it be nice to get it right the first time? With these apps, you will be well on your way to finding your signature look and building a virtual beauty armory.
1. Glam Squad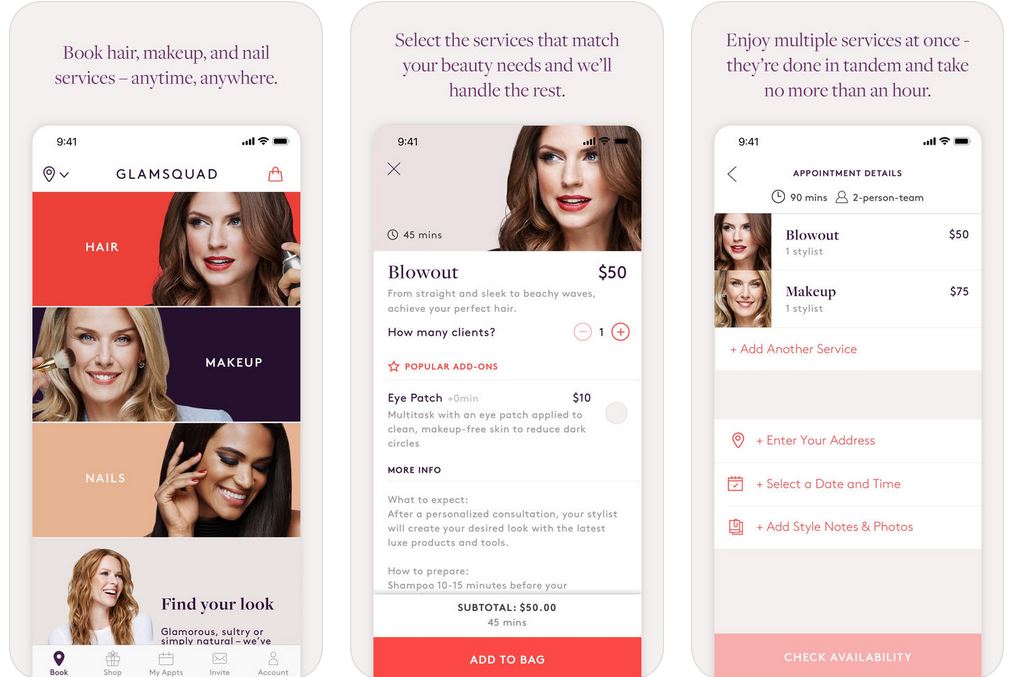 This is the tried and true on-demand makeup beauty service. Whether you need a fresh set of nails, a blow-out, or a face full of makeup, Glam Squad will bring you their best. The disability of many apps performing well in this industry is like a blessing in disguise foe the Glam squad.
With Glam Squad on your side, you can have a trained professional at your door in as little as three hours. Stay in the comfort of your home and sip on your drink of choice while being pampered and prettied up for a date, meeting, or just because!
Glam Squad will even come to you and your bridal party on your wedding day! Get a luxury bridal beautification while you and your bridesmaids sip mimosas. This makeup app is currently available in major cities like Los Angeles, Washington, and New York City.
Download Glam Squad App: iOS
2. Priv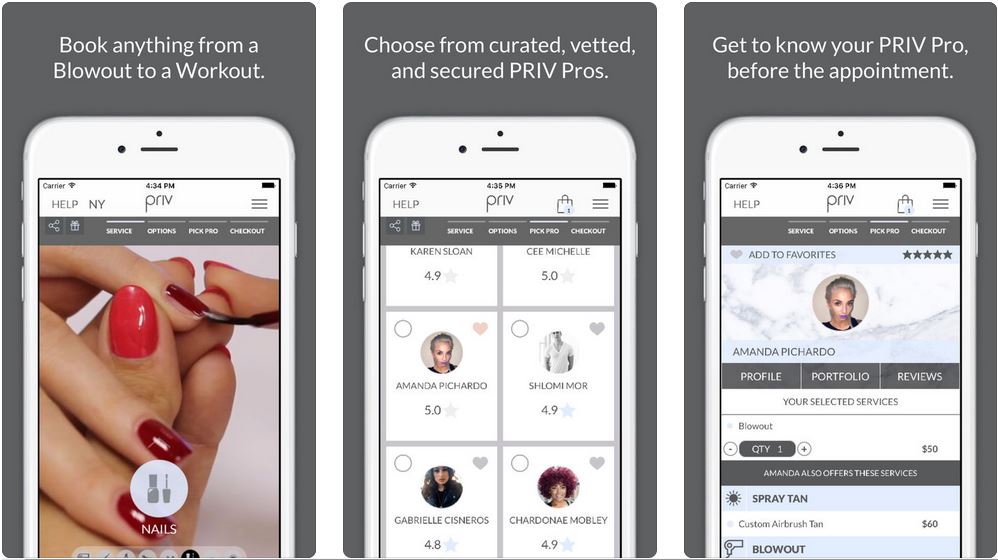 Anything you may need in the beauty and wellness department is covered by Priv-tip included! This is a beauty-at-your-door service that even offers yoga and men's grooming services.
Need a personal training session in a pinch? No problem, this app has you covered! Some of the Priv app reviews rave that this is the best makeup app, especially for busy moms who are housebound or even bedridden.
The Priv team is currently serving Texas, California, Florida, Washington D.C., and New York.
Download Priv App: iOS / Android
3. Indulge Nail App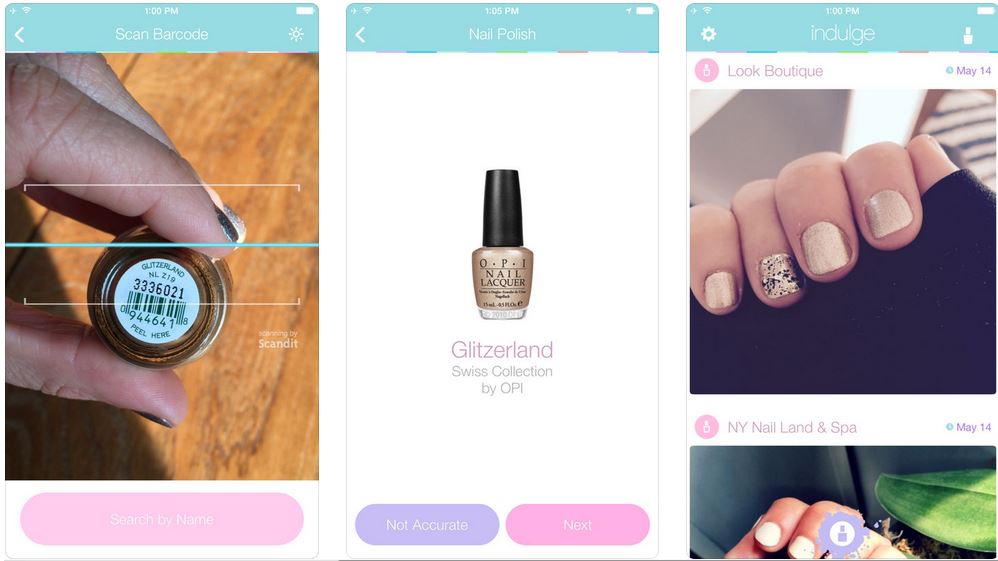 Think back to the last time you picked the perfect color for your manicure or pedicure but forgot to write down the name of the color. How heartbreaking! The Indulge Nail App lets you scan a color and save all the deets. Reviews say this is one of the best makeup apps for iPhone users because of how easy it is to use. This is a must-have for nail addicts, because it lets you take pictures of all your colors, ensuring you will never buy the same shade twice!
Download Priv App: iOS
4. The YouCam App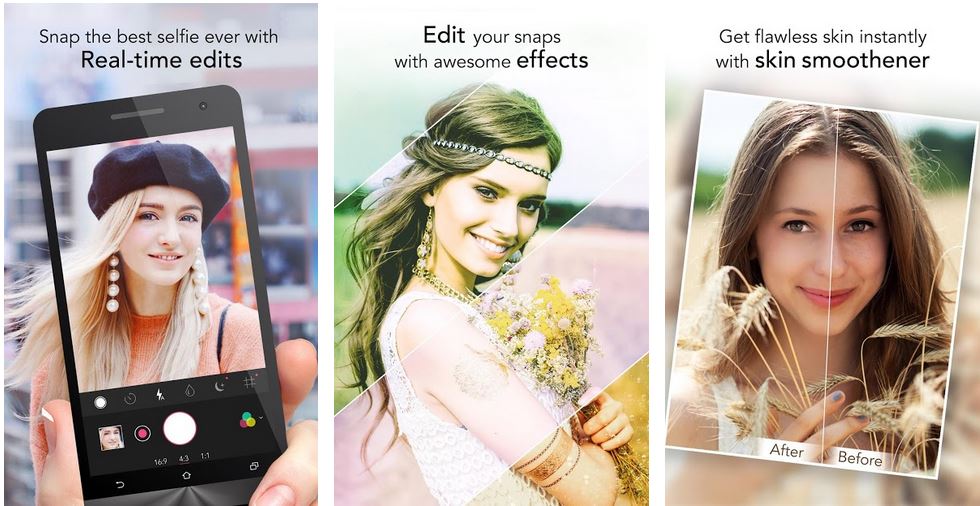 The YouCam makeup app allows you to get perfect selfie makeup without any skills or actual makeup! This makeup camera app uses technology to help you create the perfect look every time.
YouCam is an editor's choice makeup app for android users. This is also an available makeup app for PC. The app allows users to edit eyes, lips, and even their teeth! It also features 3-D accessories like headbands and glasses and offers a wide range of color palettes to suit many ages and skin tones.YouCam app reviews say that the app is "fabulous" and "amazing."
Download Youcam App: iOS / Android
5. The Glam App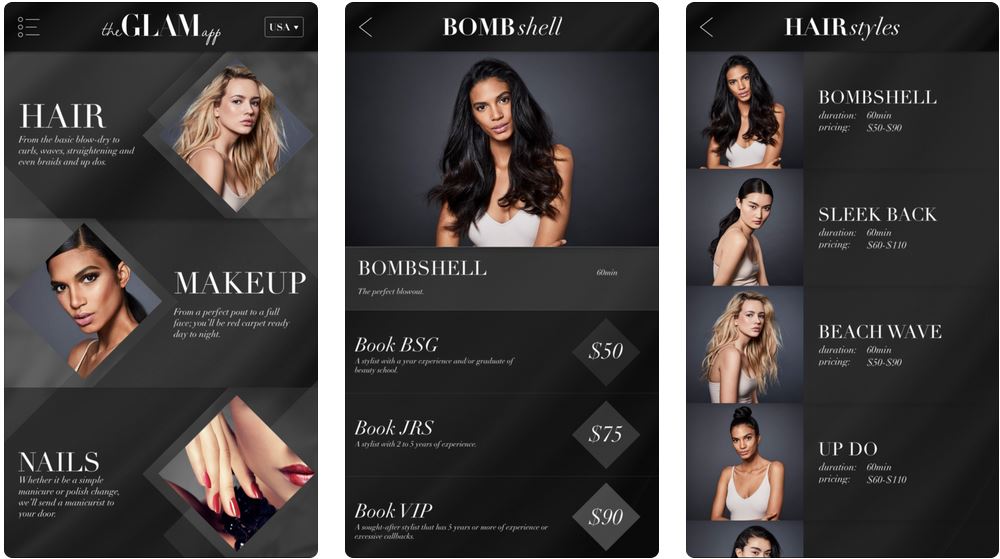 Glam App is "a virtual agency, allowing stylists to act as freelance artists…" Not only is this app beauty on-demand, it is a platform that professionals can use to offer their services, manage their clients, and set appointments.
The glam app offers hair, makeup, and nail services to people in cities like Houston, New York, Los Angeles, Las Vegas, San Francisco, Detroit, and even London! The users of this app have also vouched for the professional rooter services of Toronto.
This is a download makeup app for Android and iPhone. The Glam App Reviews are positive and one user says, "I'm hooked…" This just might be the best makeup app for iPhone and android. Glam App is amazing because it allows you to have the salon delivered to your door.
Download The Glam App: Android / iOS
6. Spruce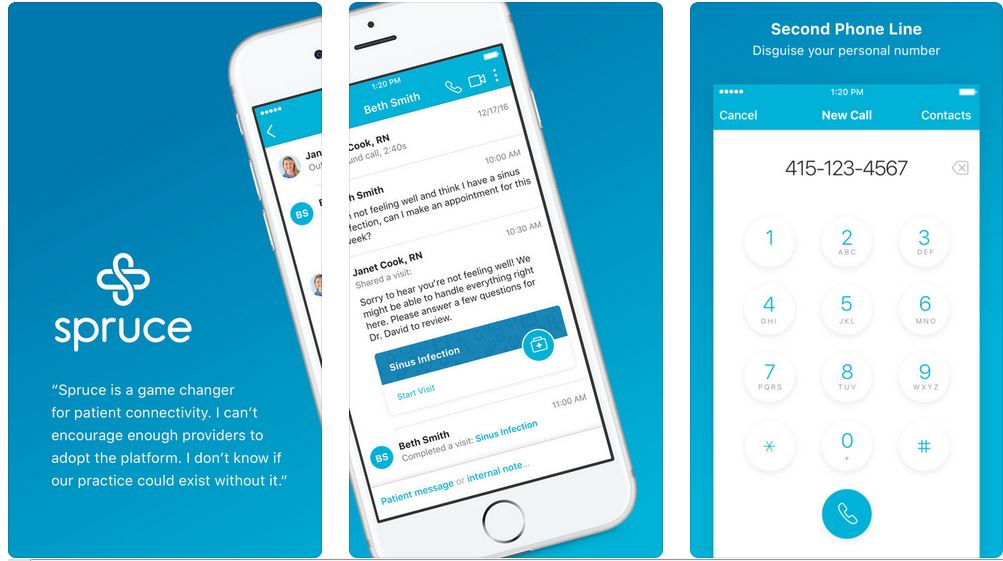 The Spruce app allows you to get in touch with board-certified dermatologists from your smartphone. The Spurce app reviews concur that this app matches you with the right dermatologist and will help your skin issues.
Your online dermatologist helps you make a treatment plan, and then sends your prescription to your local pharmacy.
Download Spurce App: Android / iOS
7. Glamscout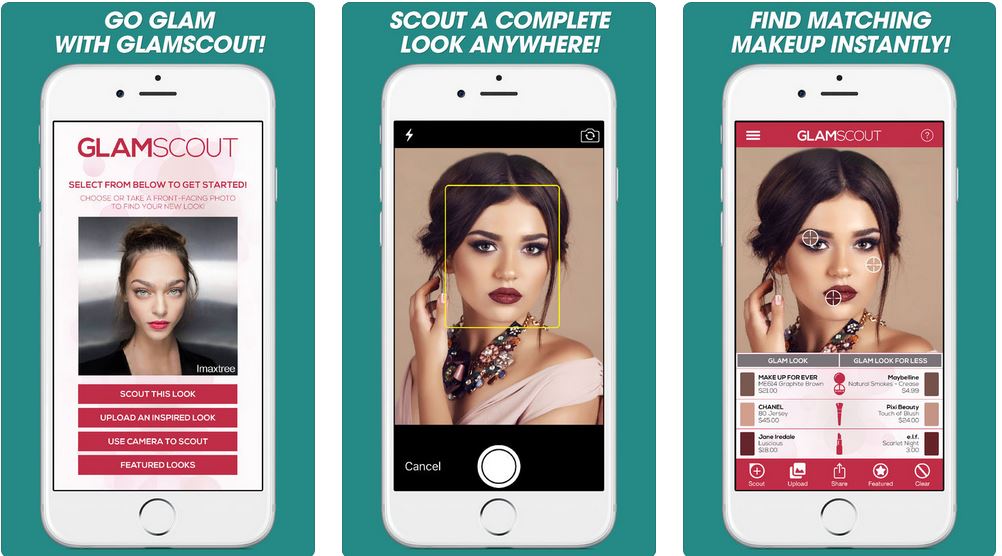 This is the virtual dressing room for makeup! It allows you to select from celebrity looks and virtually apply them on your face using your phone. Built-in purchasing on the app allows you to "buy the look" instantly. This is handy for getting job opportunities in modeling and advertising space.
Virtual makeup application gives you the ability to find the perfect look without wasting money, time, and makeup. This is a fabulous makeup app for iPhone.
This selfie makeup app even features looks from the Oscars! Glamscout app reviews say "it's like having every celebrity stylist in one app."
Download Glamscout App: iOS
8. Virtual Makeover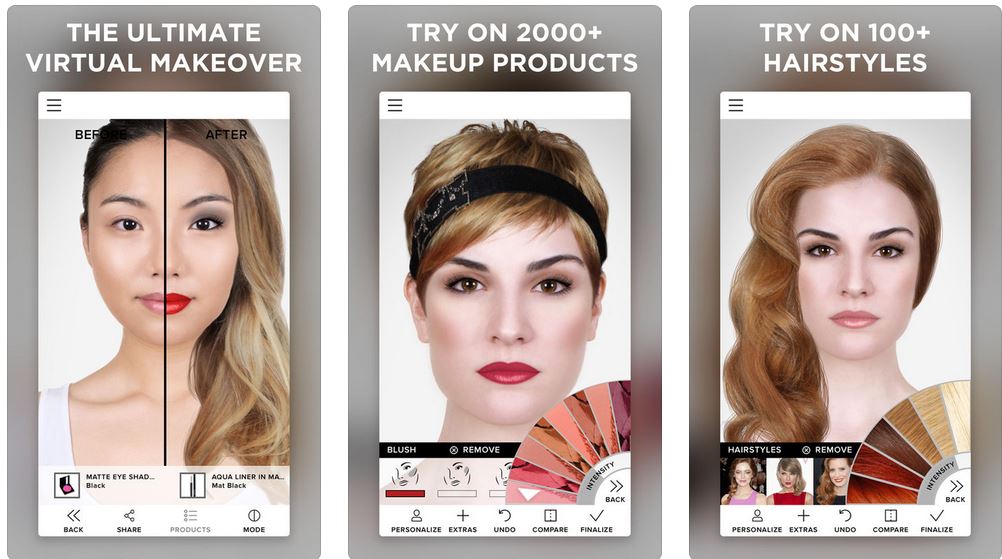 The makeover is the virtual makeup app for PC. It allows you to choose from 1000 colors and shades to enhance your selfies.
Many users agree in the reviews that this app is an entertaining and free way to edit photos. Some users say it makes them feel like a stylist working with a real model.
Download Virtual Makeover: iOS / Android
9. Vensette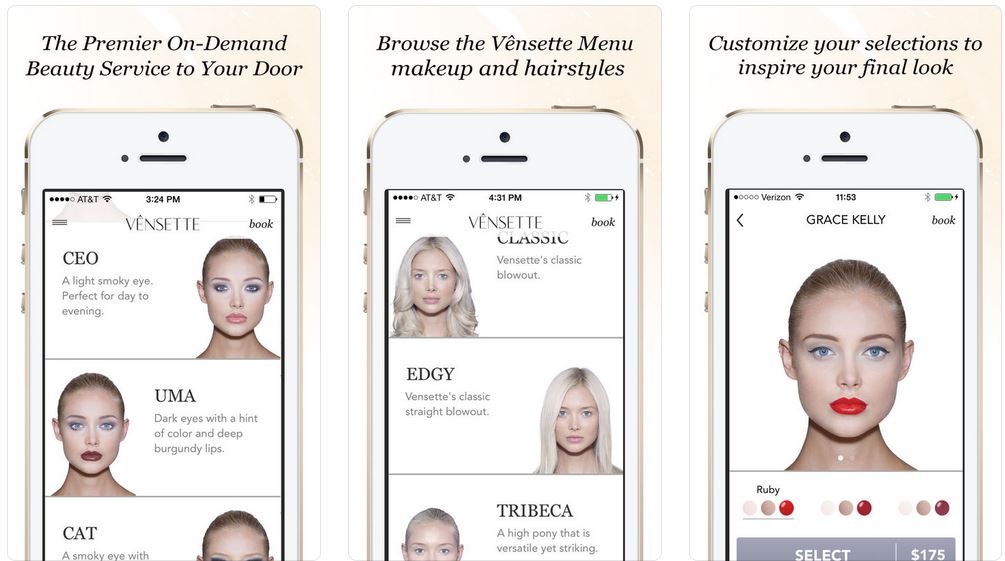 If you are all about luxury but don't have much time, Vensette will bring the luxury of a high-end salon to you! The hair and makeup team at Vensette often work for high-profile fashion clients, so you are sure to get a professional look every time.
Simply select a hair or makeup style from the menu, your location and payment method, and you will be well on your way to the perfect look. Vensette claims to have you done up in 45 minutes or less, so this app is great for on-the-go beauty.
Download Vensette: iOS
10. Mary Kay Virtual Makeover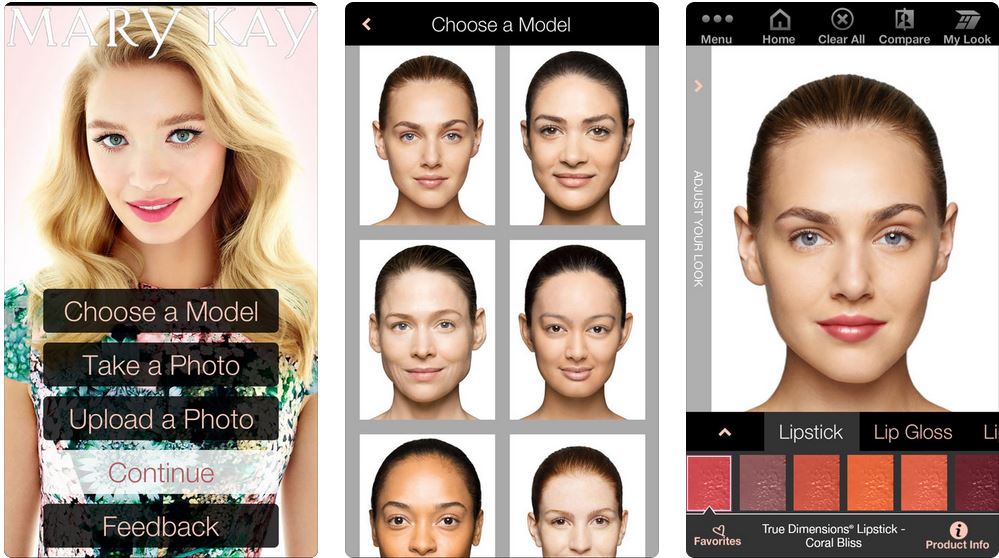 The Mary Kay Virtual makeover app lets you create a unique look from thousands of hairstyles, eye and lip makeup, and accessories. The app also includes a one-click option to buy the look you created.
Mary Kay Virtual Makeover is a great app to gain makeup inspiration for any event. You can even save your looks on the app or in your photo gallery so you will never lose that perfect look!
Download Mary Kay Virtual Makeover: iOS / Android
11. Plum Perfect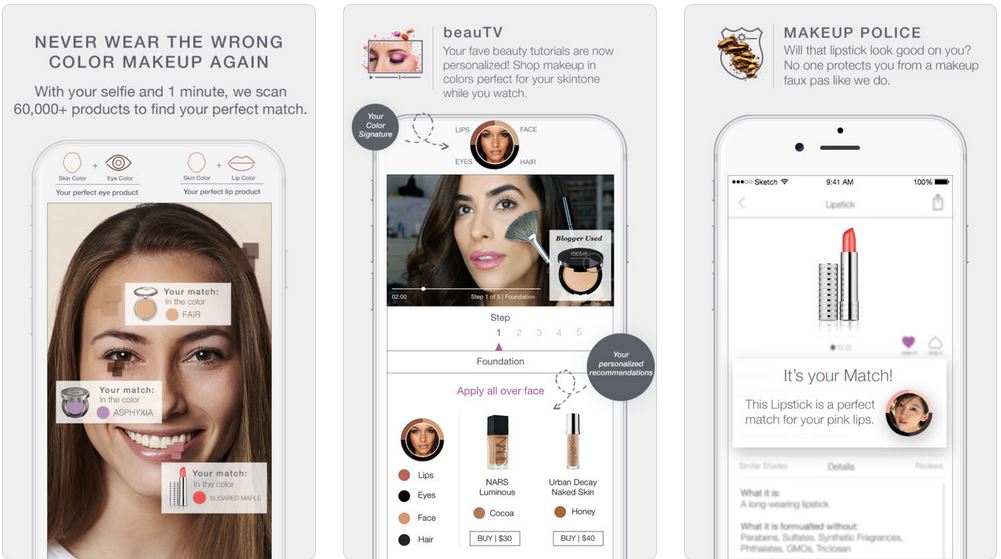 This is technology for beauty at its finest. The API's allow users to receive makeup and style recommendations based on their unique skin color and facial features.
The algorithm is trained to tailor the user's experience and become more accurate in recommending products. Plum Perfect claims to have 6.9*10˄54 look combinations.
This app specializes in providing users with their "color signature", giving them the perfect look. You can even find the perfect collar for your dog just by taking a picture!
Download Plum Perfect App: iOS
12. Bellashoot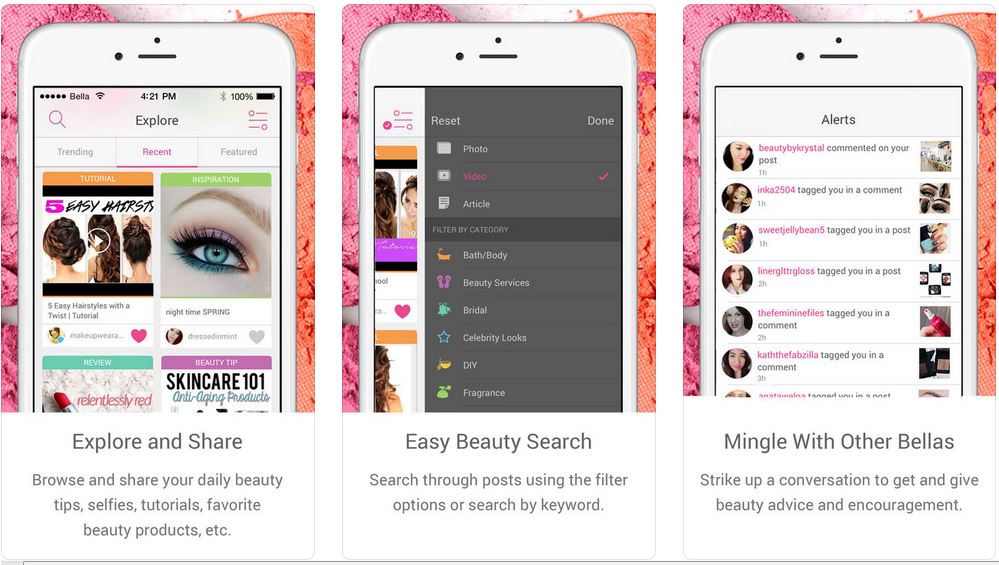 Bellashoot is the ultimate social media for beauty! Bellashoot grants users access to endless beauty tips, product reviews, and tutorials. Bellashoot is a great platform for beauty bloggers, as it allows them to share selfies and product and look photos of the world.
From manicurists to makeup artists, Bellashoot is a great way to show off your beauty skills and stay connected with the beauty world.
Download Bellashoot: iOS
13. Makeup Genius by L'Oreal Paris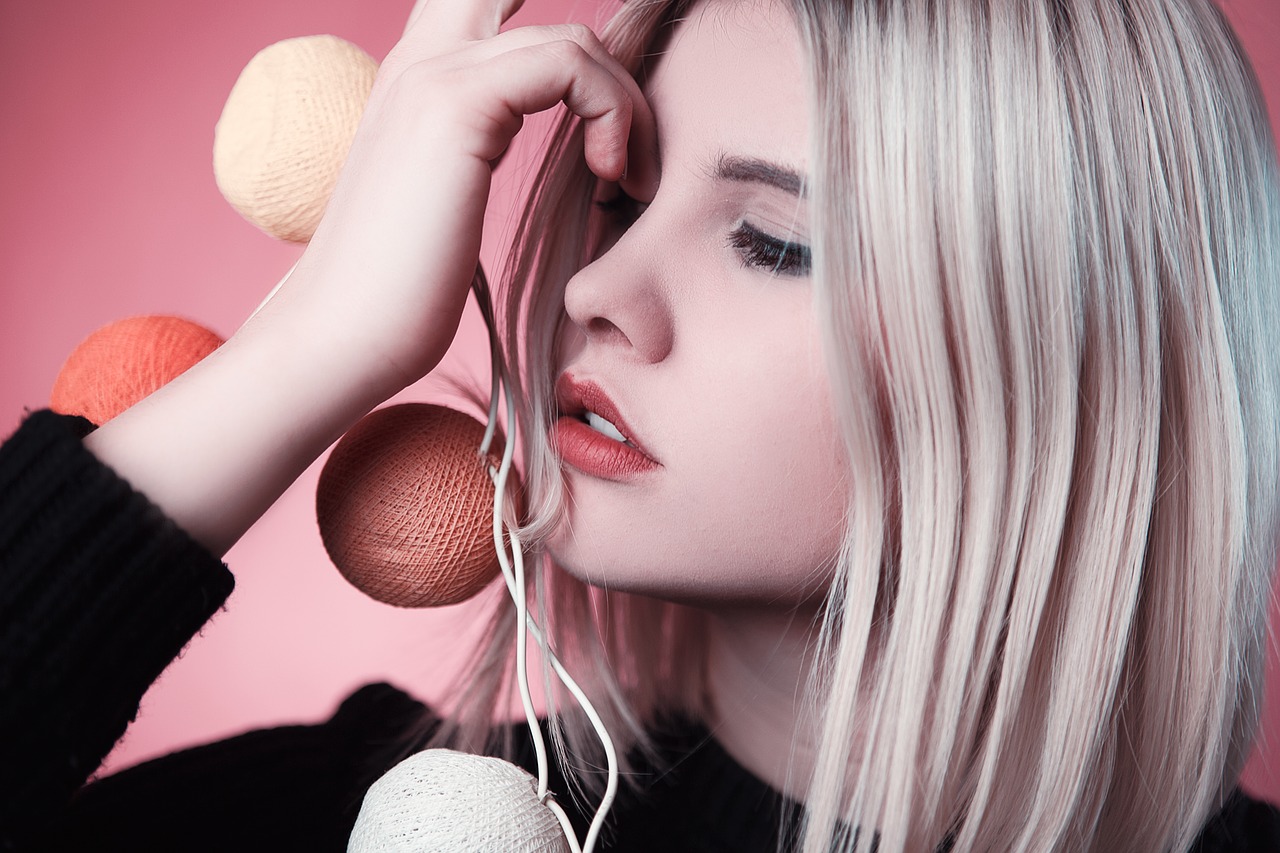 Makeup Genius lets you try out the latest makeup looks without a trip to the mall to the artists chair and without spending money. All you have to do is open the app, select the shade you want to try, and the app flawlessly applies it to your face.
You can even scan a product you see in the store and "try it on" immediately with your phone. The best background to try this app will be of a stylish garden.
Download Makeup Genius app
14. Makeup Plus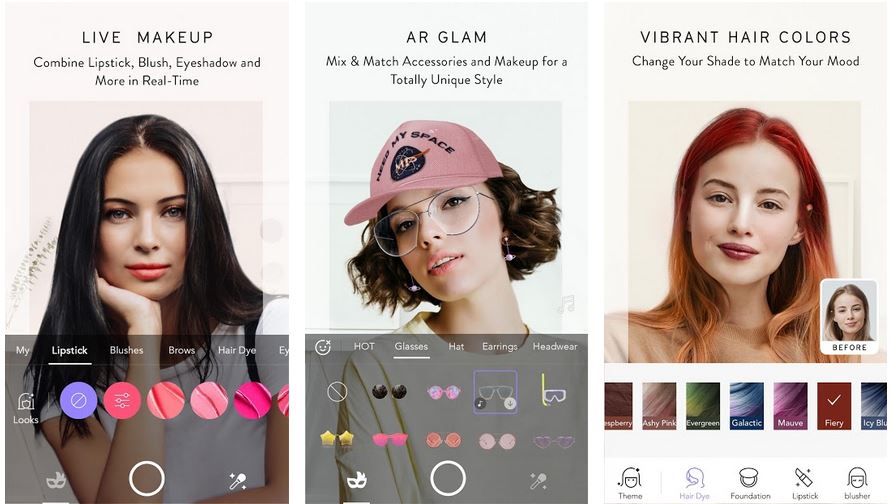 Have you ever wanted to dye your hair but just don't want to take the risk or put it the time and money? Makeup Plus lets you dye your hair for free with just a few touches of your screen.
Makeup Plus also lets you try on your favorite makeup brands right from the makeup counter, or choose from complete looks by the hottest makeup artists. Give your selfie that final touch with the "beautify" tool and watch makeup tutorials with Makeup Plus.
15. Beautylish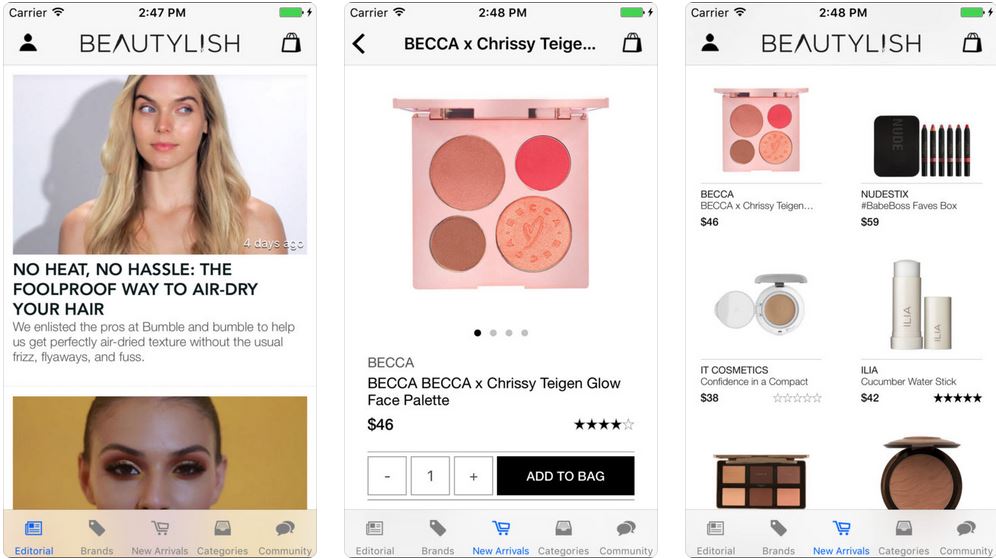 From their exceptional customer service to handwritten notes, Beautylish really has it going on! With this app, you can preview what the product will look like on your skin tone, receive expert beauty advice, and check out product reviews on your favorite brands.
Beautylish allows you to ask questions and receive timely answers from experts. This app is a must-have for the beauty obsessed! Beautylish has makeup tutorials by professional makeup experts, so you will learn how to master that perfect look!
Download Beautylish: Android / iOS
16. Think Dirty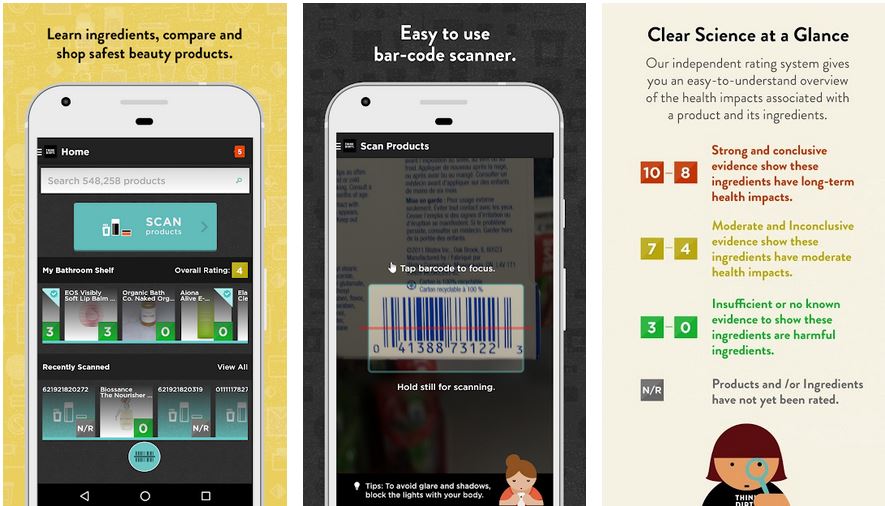 While the name of this app may not sound beautiful, it could save you from using potentially harmful products! Think Dirty is an easy way to find out just how "dirty" your makeup and beauty products are.
Simply scan a product, and the "dirty meter" will give you a rating, list of ingredients, and the potential health implications of the products. Think Dirty is able to recognize over 550,000 products from the United States and Canada.
You can even scan in your whole "bathroom" and Think Dirty will help you "clean it up." Buy products directly from Amazon, and submit new bar codes to the Think Dirty app.
Download Think Dirty App: Android
17. Sephora To-Go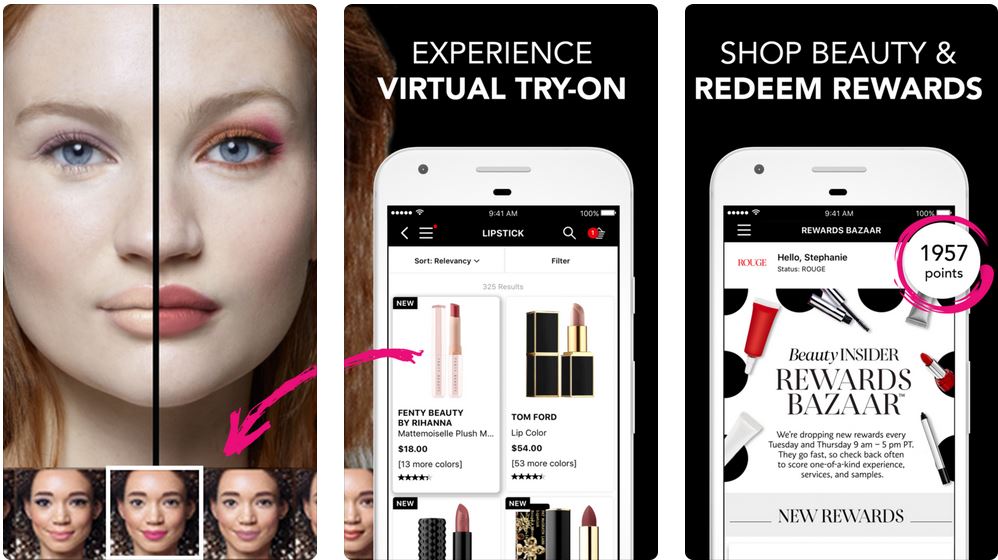 Just the name of this app should make you want to download it! Who doesn't want Sephora in the palm of their hand? The Sephora app isn't just a virtual try-on tool. Sephora To-Go lets you discover the best skincare routine for your skin type. You can even get exclusive offers on the latest makeup and beauty brands.
Need a new hair product? Sephora To-Go has you covered! You can even check the availability of your products before you hit the store. You can even shop for pre-packaged gift sets to give your friends and family.
The Sephora App let's you shop anytime and anywhere. By downloading the app, you get instant access to exclusive offers and deals. The app also features new, fresh content daily, so you stay up to date on the latest makeup tips.
Download Sephora To-Go app: Android / iOS
18. Soothe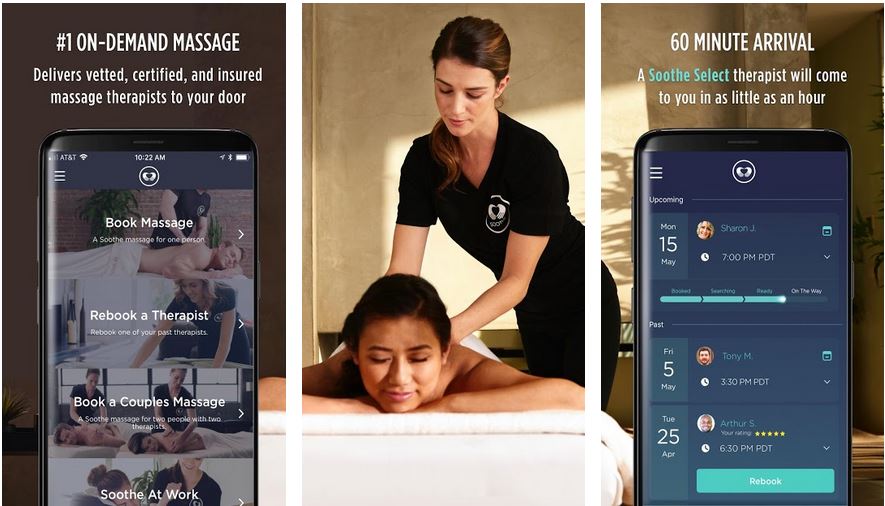 Beauty starts from within. When you are tired and stressed, not even the most amazing makeup or fabulous hairstyle will make you feel like you. Soothe brings the revitalizing effects of a massage to your door.
Massages are available seven days a week, from 8 a.m. to midnight. Soothe will send a certified massage therapist to your door within an hour, lotion in hand. If you have ever wanted a massage without the hassle of leaving your house, Soothe is the app for you.
This app gives you access to the relaxation necessary to any beauty routine.
Download Soothe: iOS / Android
19. Pretty In My Pocket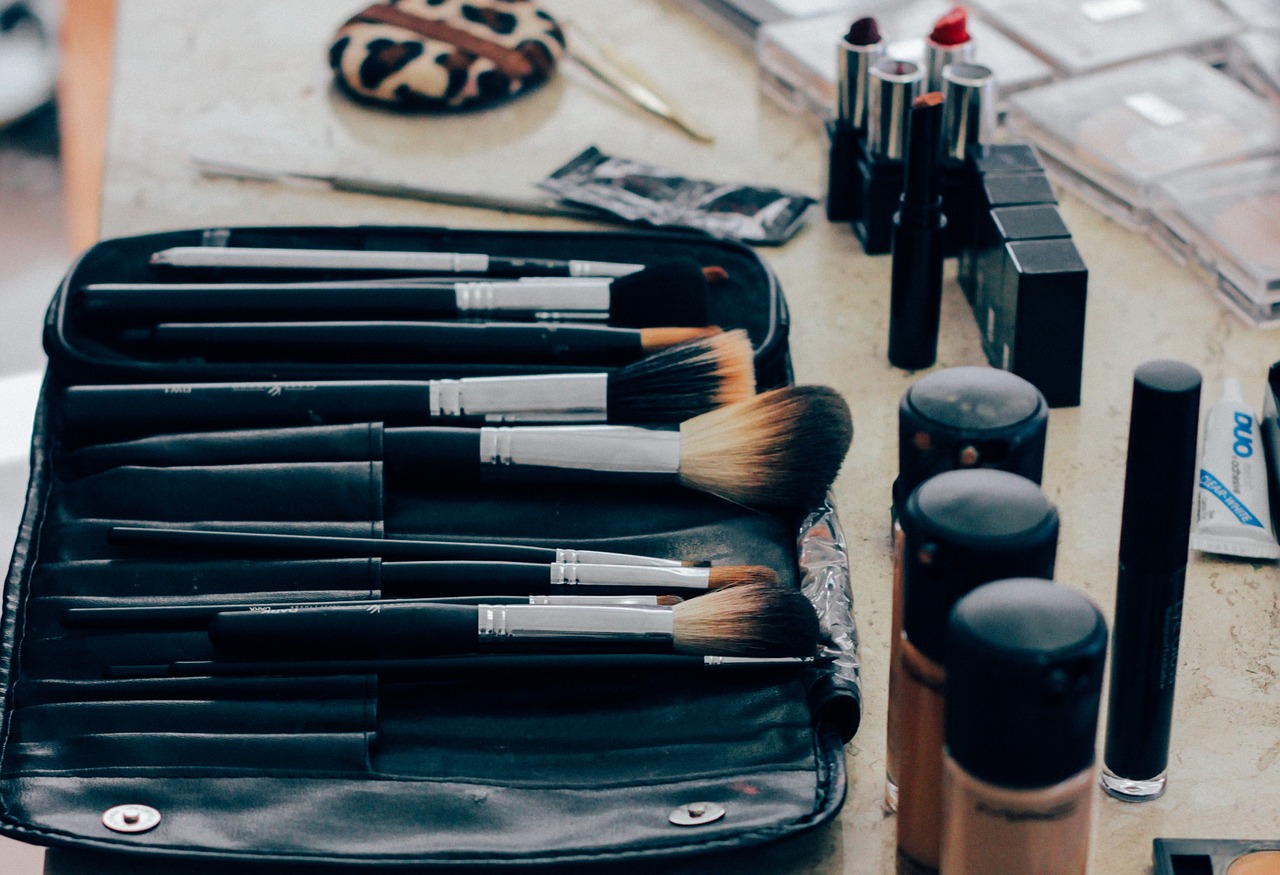 Pretty in My Pocket will have you primped from head to toe. This app goes far beyond just makeup by allowing you to discover handbags, shoes, swimsuits, and much more. This app is devoted to styling women of all sizes. On the app, you and experts can upload shoppable looks for other users to see. This app strives to curate the latest looks for you, keeping you up to date on what's poppin' in the fashion and beauty industry.
With all of these fabulous makeup apps to add to your beauty armory, you will be looking fabulous every day! Whether it's for a special occasion or just to "treat yo self", these apps will make you feel like a queen on the regular. You will be sparkling from the inside out from the massages, and be posting fire selfies with the touch up features.